This week I've had a lot of fun using logwood chips to create a dye-bath that's given me a lush spectrum running from inky purples to airy lavenders as it has gradually lost its strength. I've been playing with it for several days now, allowing each hank of wool time to absorb its fill of the dye before mordanting another hank, and dropping it into the bath.
Log

wood Dye
First off I got a lovely gradient-hued deep purple: perfect for socks. Then out came a gradation of hues that shifted from a jewelled amethyst to a gentle pastel lilac, each one subtly different from the one before. I'm not sure how I'm going to use them; I think they'd look great together in an ombré-toned creation. The last couple of lavender-lilacs are in double knitting, so they may get worked into some manner of creature after the fashion of
Festibear
.
I'm constantly amazed by how many plants can be used to create such wonderful colours.
Walpole Park, Ealing
This week I've also been wowed by Mother Nature's seasonal display of foliar fireworks. Autumn still rules down in Walpole Park, where the WonderDog and I go for our morning constitutional every day after school drop-off.
Walpole Park, Ealing, London
I'm thinking of trying some turmeric or maybe some onion skins to match those wonderful golden yellows that are brightening up my mornings at the moment.
Walpole Park, Ealing, London
I think golden woolly socks might be good for the soul in the depths of a grey English winter. What do you reckon?
Mr B is in Boston as I write. Imagining that it would be chillier there than here, and not being able to lay his hands on a hat of his own, he seized my grey bobble hat on his way out the door, muttering darkly that his wife never knits anything for him. It's true: I don't. In my defence it's all about economies of scale: there's more to cover when I'm knitting for Mr B. Chastened, nevertheless, by his complaint I'm busy knitting him a pair of socks to make amends.
Normally I knit socks with steel double pin needles, but the other day I treated myself to a lovely wooden set of Knit Pro double pins. They are working really well. Because they weigh so much less than steel needles they don't pull the knitting outwards - like a banana peeling - as I work. This makes it easier to avoid those ladders of loose tension where one needle meets another. Also the stitches don't slide off so easily, which makes them safely transportable for working
on the go
. And I think you'll have to admit that, as needles go, they look rather splendid. Indeed you could be forgiven for thinking that I'd chosen them to match Mr B's new socks.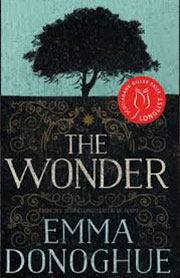 In the early part of the week I read
The Wonder
by Emma Donoghue. I'll be honest: it took me a long time to bond with the characters; set in 1859 their reality is so very different from modern life today, and much of what they believed in seemed absurd to me. Somewhere, around two thirds of the way through, however, I began to root for Lib Wright, the sceptical English nurse who'd been sent over to the Irish midlands to watch over the young girl, at the centre of the story, who was slowly starving herself to death under the pretext of being a Holy Child
of such spiritual purity that she had no need of earthly sustenance
. Apparently these
Fasting Girls
really were a thing back then. The story unfolds shortly after the Great Famine of 1845 to 1852, and it's easy to see how the emotional trauma of that time must have profoundly affected everyone's psychology where food was concerned. Abstinence, not being greedy, eating like a bird: they must all have seemed positively virtuous when there was so little to go around. It's strange to reflect on how the bullying mass media of today has a similar impact on young girls who aspire to fit into those impossibly-perfect size zero dresses. Society, then as now, makes harsh demands of its most vulnerable young women.
Costa Brava Botanically Dyed Wool
Anyway, having belatedly started to root for Lib Wright, I very much enjoyed the final third of the book to the point where I felt quite bereft when it had finished. It left me wanting more. It was an interesting study of mass hysteria, and the power of suggestion. It also resonated with a distant summer from my own childhood in Ireland; the Holy Father, Pope John Paul II had visited, and, suddenly, every statue of the Virgin, up and down the country, seemed to be weeping. To be honest, we all have a tendency to bend the facts to fit the narrative of our own prejudices and outlook. So in the final analysis it tapped some surprisingly modern themes, and successfully ratcheted up the tension for a barnstorming finale. Well done Emma Donoghue!
And finally I leave you with an image of the WonderDog
chillaxing
whilst I type. No one - neither man nor beast - chillaxes with the aplomb of the WonderDog.
All the best for a fabulous weekend,
Bonny x